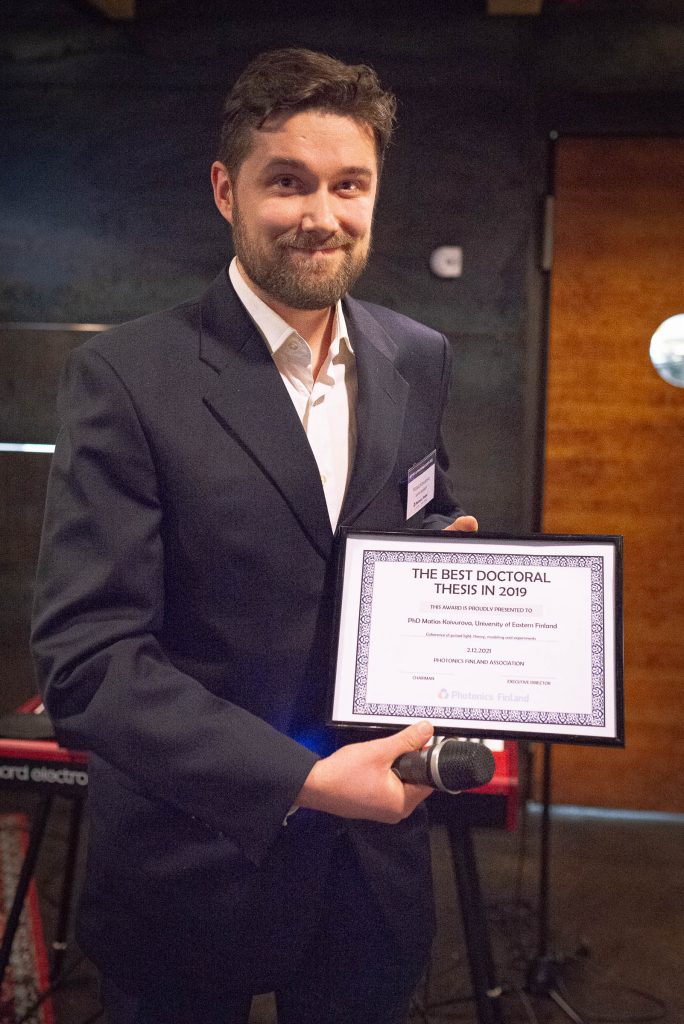 Photonics Finlandin väitöskirjapalkinto
Photonics Finland haluaa antaa tunnustusta ansiokkaasta Suomessa tapahtuvasta fotoniikan väitöskirjatyöstä ja kannustaa fotoniikan tutkimukseen. Tämän johdosta seuran hallitus on päättänyt julistaa haettaviksi 31.04.2022 mennessä palkinnon alan parhaasta väitöskirjasta Suomessa 2021. Palkinto on 1 000 €.
Säännöt
Väitösvuoden määrää väitöstilaisuuden päivämäärä ja palkittavan tulee olla valmistunut tohtoriksi hakuajan päättymiseen mennessä. Valinnan palkintojen saajasta tekee seuran tieteellinen neuvottelukunta. Kriteereinä parhaan fotoniikan alan väitöskirjalle ovat väitöskirjan tieteellinen laatu ja merkitys. Palkinto julkistetaan 07.09.2022. Voittajan nimi ja väitöskirjan aihe julkaistaan myös seuran verkkosivuilla ja Fotoni-lehdessä.
Hakeminen
Palkintoa voi hakea kuka tahansa, joka on väitellyt menestyksekkäästi Suomessa vuonna 2021 fotoniikan alalta. Hakijan tulee täyttää verkossa (alla linkki) hakemuslomake Photonics Finlandin tieteelliselle neuvottelukunnalle. Jos väitöskirjaa ei ole saatavilla verkosta, niin hakijan tulee toimittaa sähköinen kopio pdf-muodossa osoitteeseen thesis@photonics.fi. Hakemuksessa annetuissa väitöskirjan osoitteissa tulisi suosia ns. pysyväisosoitteita, jotta linkki on voimassa mahdollisimman pitkään. Vastaanotetut hakemukset vahvistetaan hakijalle sähköpostilla. Hakemuslomake
English abstract of the announcement
Photonics Finland is inviting candidates to submit applications for the title of the Best Doctoral Thesis in Photonics for year 2021. The winner will be announced on the 7 of September 2022 and awarded at OPD2022. Applications should be submitted using online form

The application deadline is 31.04.2022.
Tampereella 1.4.2022,
Juha Toivonen
Photonics Finland ry puheenjohtaja