Photonics is a rapidly growing field of science and technology that has an increasing demand for talented workforce both in industry and academia. To meet these needs in the future, young students need to be encouraged to study science, technology, engineering, mathematics (STEM) subjects at an early age. In photonics (light-related physics), this can be achieved with the Photonics Explorer Kit, an experimental kit designed for teaching photonics in a fun way.
In 2020, Photonics Finland and the Flagship for Photonics Research and Innovation (PREIN) launched a sponsorship campaign where companies and individuals can donate Photonics Explorer Kits to Finnish schools to make it possible for children and youngsters to learn about light. Joining the campaign is easy – Fill the  donation form and we will  handle the rest!
The Photonics Explorer Kit (PEK):

is an educational kit for secondary school light-related physics
is created in European collaboration by EYESTvzw, a Belgium based non-profit organization
provides experimental learning of photonics phenomena and scientific methods with optical components
contains teaching materials and didactic framework for teachers
introduces working as a scientist and inspires students to study natural sciences
Benefits hundreds of students over many years!
Sponsorship campaign:

Companies and individuals can sponsor a PEK to schools
Sponsor can choose the target school or give the donation to a Finnish school that has registered to receive a PEK
Sponsors can have their logo and leaflet in the kit

What's inside?
The Photonics Explorer Kit (PEK) is an educational kit with a focus on experimental light-related physics, especially relying on hands-on work and learning scientific methods. Experiments are done with high-class and durable components, such as lenses, LED and laser modules, diffraction gratings and polarizers.
The components are used in experiments and tests that teach students the physical phenomena related to e.g. data transfer, optics, seeing colours, and diffraction and interference of light. There are enough components for all the students in the class to engage in experiments simultaneously.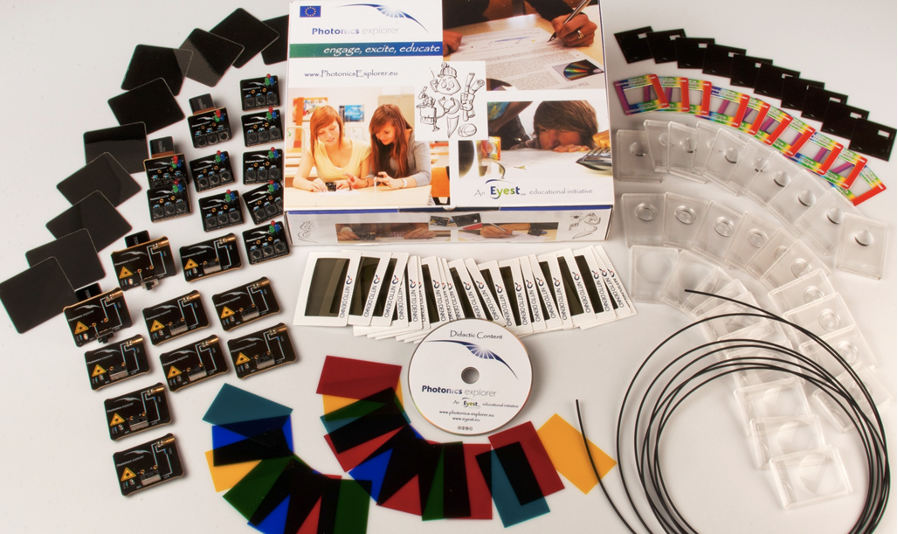 To facilitate including the PEK in the curriculum, teachers receive ready-made lessons and supporting materials as well as experimental instructions for the students in 16 different languages (English and Finnish included).
The PEK is aimed towards lower and upper secondary school physics courses and is divided in to eight separate modules – four for each level of education. However, due to its experimental focus, it can easily be modified in vocational education as well.
Photonics Explorer Kit is used Worldwide!
The PEK has been very popular worldwide, and over 3500 kits have made it possible for hundreds of thousands of students to learn photonics in an early stage of education. One PEK costs 248 (VAT 24%) from EYESTvzw. Over 80 kits have been distributed in Finland with one kit reaching hundreds of students over many years.
Photonics Explorer Kit 2020 Sponsors:
Beneq Oy – 10 kits
Noptel Oy – 3 kits
Milloq Oy – 2 kits
Senop oy – 2 kits
Reflekron Oy (Mircea Guina)
From 1to1000 Oy (Jyrki Saarinen)
Hanna Holopainen
Heidi Piili
Juha Purmonen
Jukka-Matti Turtiainen
TecGyver Oy (Kimmo Jokinen)
Jussi Parkkinen
Thank you to all our sponsors!

Joining the campaign is easy – Fill a form here and we'll handle the rest!