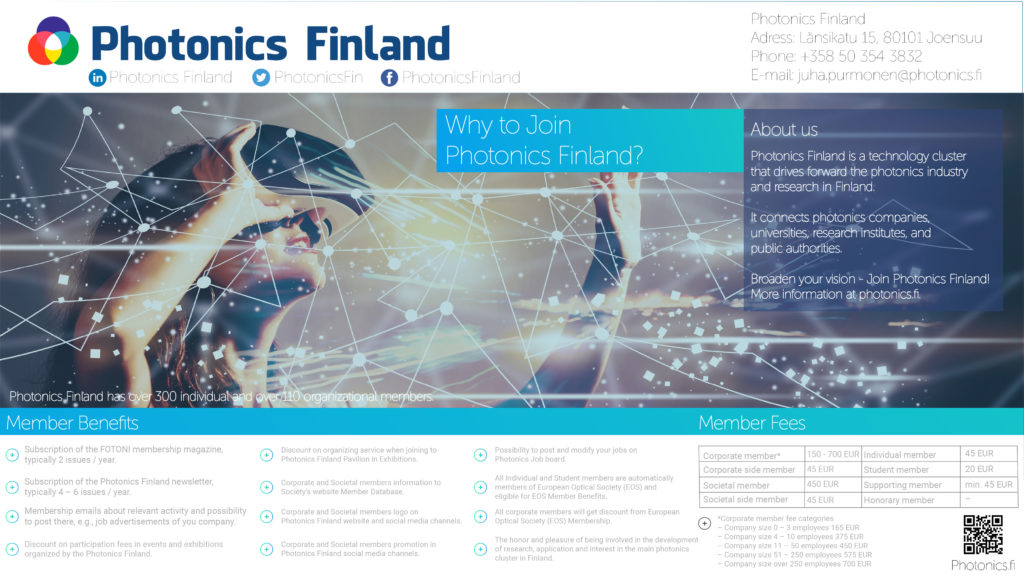 Member Benefits
Subscription of the FOTONI membership magazine, typically 2 issues / year.
Subscription of the Photonics Finland newsletter, typically 4 – 6 issues / year.
Membership email about relevant activity and possibility to post there, e.g., job advertisements of your company.
Discount on participation fees in events and exhibitions organized by the Photonics Finland such as Optics and Photonics Days.
Discount of organizing service when joining to Photonics Finland Pavilion in Exhibitions (i.e. Photonics West and Laser World of Photonics).
Corporate and Societal members information to Society's website Member Database.
Corporate and Societal members logo in Photonics Finland website and social media channels (Facebook, Twitter, LinkedIn).
Corporate and Societal members promotion in Photonics Finland social media channels.
Possibility to post and modify your jobs in Photonics Job board. Photonics Finland promotes posts in social media.
The honor and pleasure of being involved in the development of research, application and interest in the main photonics cluster in Finland.

All Individual and Student members are automatically members of European Optical Society (EOS) and eligible for EOS Member Benefits.
All Student members have also possibility to become member of EOS Finland Student Club without any extra fee.
All corporate members will get discount from European Optical Society (EOS) Membership.
Please apply for a membership with the form below. Membership types and fees are in the table below:
| | | | |
| --- | --- | --- | --- |
| Corporate member* | 165 – 700 EUR | Individual member (PhD student, or employed) | 45 EUR |
| Corporate side member | 45 EUR | Student member (candidate, or master students) | 20 EUR |
| Societal member | 450 EUR | Supporting member | min. 45 EUR |
| Societal side member | 45 EUR | Honorary member | – |
*Corporate member fee categories
– Company size 0 – 3 employees 165 EUR
– Company size 4 – 10 employees 375 EUR
– Company size 11 – 50 employees 450 EUR
– Company size 51 – 250 employees 575 EUR
– Company size over 250 employees 700 EUR
The Society's bank account number for membership fee is IBAN: FI44 1309 3000 2042 48, BIC: NDEAFIHH. Photonics Finland accounting partner Tilitalo Rantalainen will be sending the membership invoice to the email- or e-invoice address, which will be informed during registration process. Photonics Finland board approves new memberships monthly. You will get the email from Photonics Finland once your application has been processed. As a member please also remember to notify us about all the changes through this form.