LinkedIn-training for Photonics students & jobseekers
March 31, 2021
@
12:00 pm
–
3:00 pm
EEST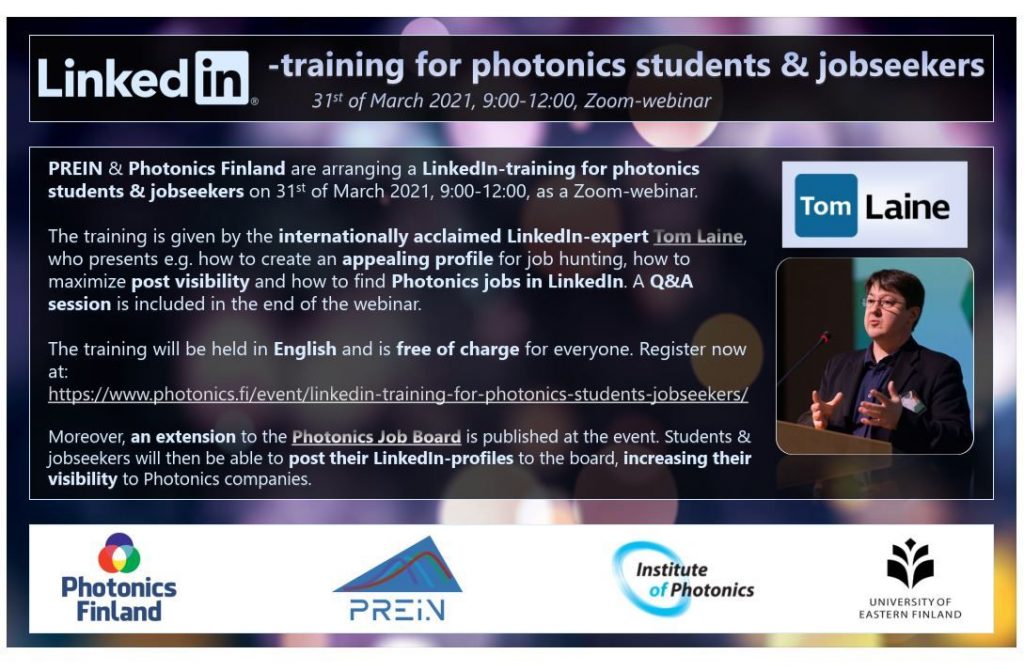 PREIN & Photonics Finland are arranging a LinkedIn-training for photonics students & jobseekers on 31st of March 2021, 9:00-12:00, as a Zoom-webinar.
Program
09:00 Opening by Jyrki Saarinen, UEF, Institute of Photonics, PREIN
09:10 Linkedin-training for students & jobseekers, part 1, Tom Laine
10:20 Break
10:30 Linkedin-training for students & jobseekers, part 2, Tom Laine
11:30 Q&A, Tom Laine
11:45 Photonics Job Board, Tuukka Pakarinen
12:00 Ending
The training is given by the internationally acclaimed LinkedIn-expert Tom Laine, who presents e.g. how to create an appealing profile for job hunting, how to maximize post visibility and how to find Photonics jobs in LinkedIn. A Q&A session is included in the end of the webinar.
Moreover, an extension to the Photonics Job Board is published at the event. Students & jobseekers will then be able to post their LinkedIn-profiles to the board, increasing their visibility to Photonics companies.