Optics & Photonics Days 2023 took place in Joensuu between 30th of May and 1st of June. Over three hundred registered conference participants, of which 25% came from abroad, attended the diverse academic and industrial program.
OPD2023 in numbers
Total 317 participants

182 from industry
135 from research organisations

88 abstract submissions
Main participating countries: Finland, Sweden, France, Germany, Lithuania, Japan, Austria, and Switzerland

The high-quality academic and industrial program of Optics & Photonics Days 2023, along with the sold-out industrial exhibition and several side events, attracted around four hundred visitors in total. The industrial exhibition also opened its doors to the general public on Thursday and drew around fifty city residents interested in photonics. At the exhibitors' booths, visitors had the opportunity to try out augmented reality smart glasses developed by Dispelix Oy from and Microsoft's Hololens2 mixed reality glasses. Next-generation smart glasses are utilized in various fields, including education, healthcare, and industry, to improve user accuracy and productivity.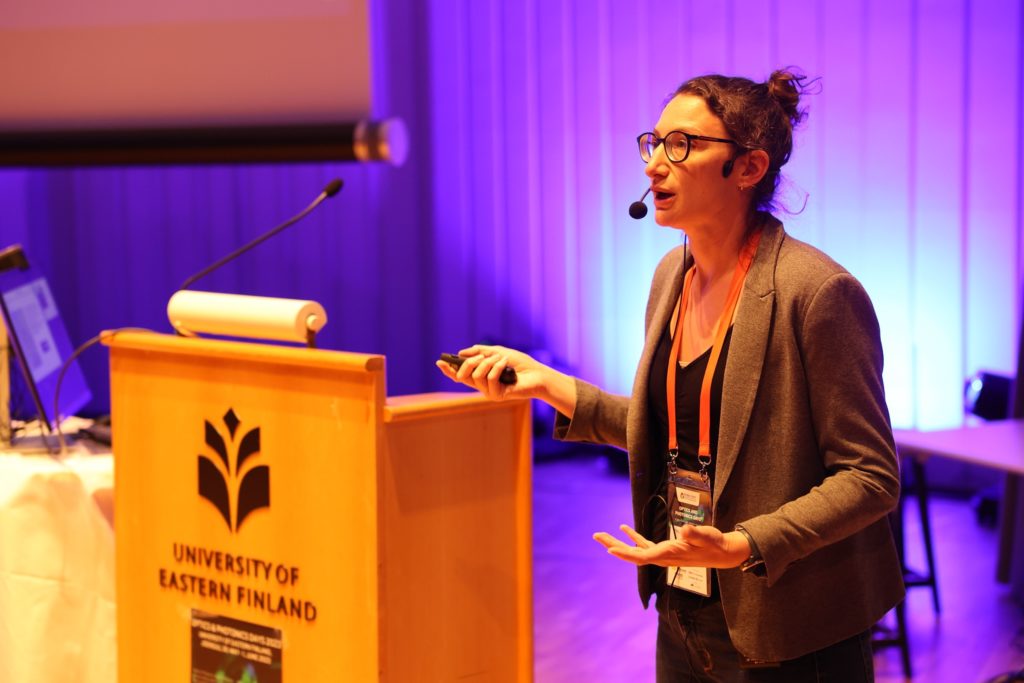 In addition to comprehensive expert presentations, the event featured a comprehensive side program. The side event held at the Photonics Center showcased the Active Alignment service, which can be utilized, for example, by camera manufacturers in prototype manufacturing. The flagship photonics event of PREIN, funded by the Academy of Finland, discussed the significance of research and industry collaboration. In a traditionally male-dominated field, the need for female expertise was also emphasized, and the Women in Photonics event featured insights from women in leadership and expert positions at three significant publicly traded companies: Microsoft, Vaisala, and Modulight. Furthermore, on Thursday, a recruitment event was organized alongside the industrial exhibition to facilitate connections between professionals and companies.
During the conference dinner on Wednesday, Photonics Finland elected a new board. Kim Grundström was chosen as the chairman, and Heidi Piili as the vice chairman. The Best Doctoral Thesis award was nominated to PhD Yadong Wang from Aalto yliopisto for his thesis "Transient Nonlinear Optics of Two-Dimensional Layered Materials", which studies the relation between carrier dynamics and nonlinear optical responses in 2D materials and to developing potential applications in the area of ultrafast nonlinear optics.
Also during OPD2023 The Best Poster awards were handed out to Lewis Atsu Asilevi from University of Eastern Finland (UEF) & Jani Patrakka from Tampere University, and The Best Oral Presentation award was handed out to Moona Kurttila from University of Jyväskylä.
Senop Oy, the largest glass optics manufacturer in the Nordic countries, was awarded as the Photonics Company of the Year. Senop provides comprehensive optoelectronics, demanding integration services and critical communication services and equipment. Safety and defense was indeed one of the main themes at OPD2023, as the importance of photonics applications in the field continues to grow.
"It is an honor to receive this coveted award. Being selected as the Photonics Company of the Year reflects Senop's growth, success, and timely presence in the industry. "I'd like to thank our team for these past years and the expertise and hard work they have done. Their efforts are what earned us this award", CTO Jussi Rautiainen celebrates.
"Even though the defense and security industry is under pressure to provide material quickly, we cannot forget what the core of our products is and that is high quality optics and photonics", Jussi says. "We continue to maintain a high level of quality and precision in all our products, weather they are going to military or industrial use. But even though defense is a timely topic, we continue to serve all industrial optics needs", Senop's CEO Aki Korhonen continues.
"During this year, a transfer of assets has been made between Senop and its parent company Millog. Starting from June 2023, Senop will have full in-house production capability and increased personnel resources. With this transfer, we can start to further develop our production to dynamically answer to the current increased demand of optoelectrical devices," Aki concludes.
About Senop:
Senop is a trusted Finnish provider of high-performance night vision devices and demanding system integration services as well as critical communications solutions for the defence and security sector. Senop's mission is to enable reliable situational awareness as well as increased firepower and mobility even in the most extreme conditions for their customers.
Senop provides high-performance night vision devices designed for harsh operation environments, intelligent sensor technology-based solutions and demanding turn-key system integration services, as well as secure communications solutions and services for customers in the defence, security and critical infrastructure industries. Employing over 100 professionals in four locations, Senop is a subsidiary of Millog and part of Patria Group.

Senop.fi
More information:
Tuukka Pakarinen
Communications & Exhibitions Manager, Photonics Finland
+358 50 313 5930
tuukka.pakarinen@photonics.fi
Juha Purmonen
Executive Director, Photonics Finland
Fotoniikkaliiketoiminnan kasvuohjelman ohjelmavastaava, Business Joensuu
+358 50 354 3832
juha.purmonen@businessjoensuu.fi