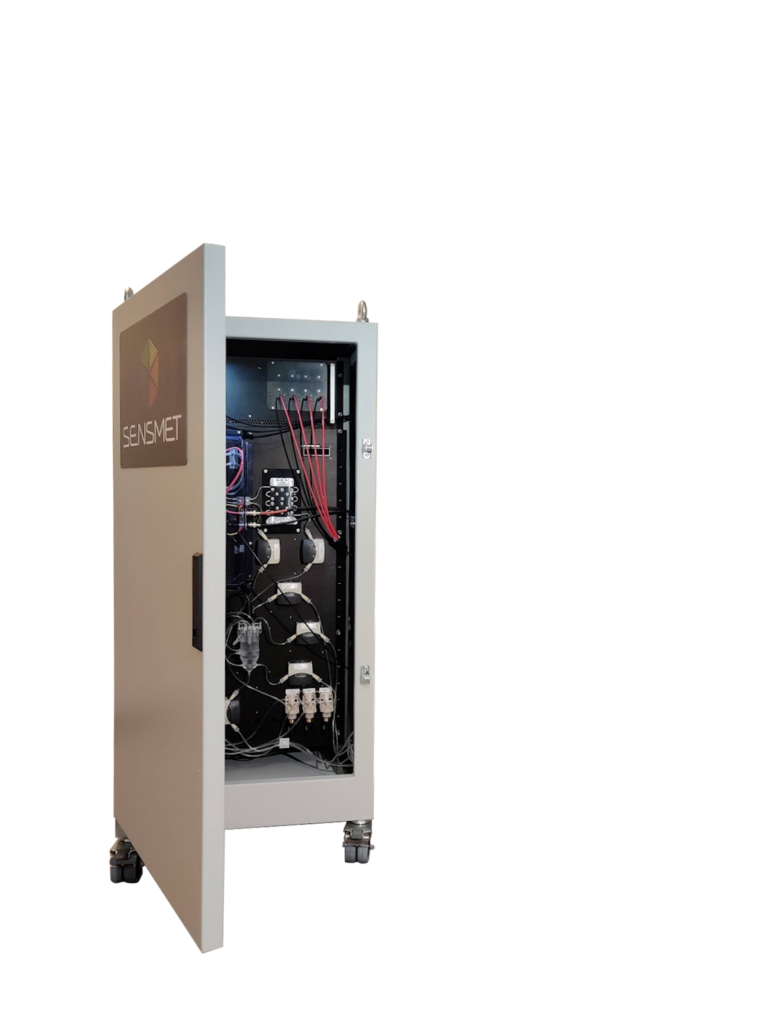 Photonics Finland member Sensmet has launched a new technology that dramatically improves the production efficiency of lithium – the most crucial component of a Li-Ion battery. Sensmet's automated online measurement technology enables the optimal dosing of chemicals during lithium production, which improves revenues and reduces costs.

Traditionally, battery metal manufacturers had to rely on batch sampling and laboratory analysis to control their processes, but this is costly, labour intensive, and typically incurs a delay of 4–10 hours. In contrast, Sensmet's technology; Micro-Discharge Optical Emission Spectroscopy µDOES®, is able to measure multiple metals, such as any battery metal and their impurities, in real-time. In addition to lithium manufacture, the technology is also suited to the 'black mass' recycling of battery metals. Strict online monitoring and control is implemented to reduce impurity levels and thereby prevent the cost and delay incurred by retreatment.
Keliber ran a pilot-scale test programme in 2022 to evaluate the µDOES® analyser in the continuous optimisation of precipitation chemical dosing during lithium production. Nearly 80 samples were drawn from the process with sodium and lithium concentrations analysed in parallel using both the µDOES® continuous analyser and a laboratory ICP-OES. The results showed an excellent degree of correlation between the methods. Keliber's Sami Heikkinen said: "Chemical dosing based on reliable real-time data brings stability to the process, which is very important because it avoids drift and optimises both yield and quality while minimising cost."
The ability to conduct continuous, simultaneous measurements of multiple metal species in an aqueous matrix offers battery metal manufacturers the opportunity to improve process efficiency, lower costs, increase throughput, avoid waste and improve the quality of the final product.
Contact:
Aappo Roos, M.Sc.
Chief Sales Officer
Sensmet Oy
Headquarters: Moreenitie 15 L 6
90620 Oulu, Finland
Tel. +358 44 321 9075
aappo.roos@sensmet.com
www.sensmet.com
About Sensmet:
Sensmet was founded in 2017 as a university spin-off following several years of research on micro-discharge analyser technology and related application development. Sensmet's breakthrough technology, Micro-Discharge Optical Emission Spectroscopy µDOES®, enables the online multi-metal analysis of aqueous samples. Critically important applications include continuous monitoring of lithium and other battery metals during the production process and battery metal recycling. Other applications for the continuous measurement of metals include ultrapure water, saturated brines and process water.

About Keliber:
Keliber is a Finnish mining and battery chemical company seeking to implement the sustainable production of battery-grade lithium hydroxide, utilising its own ore. Keliber's product is an essential component in lithium-ion batteries, which enable the electrification of transportation, the storage of renewable energy and the acceleration of digitalisation.

Keliber operates in Finland, where some of the most significant lithium deposits in Europe are found. Utilising the best available technologies in mining and production, and with a sustainability focus, Keliber minimises the environmental impact of its operations and ensures the conditions necessary for the circular economy.
28th Nov 2022: Keliber announces construction of 588 M€ lithium hydroxide refinery    www.keliber.fi/en/news/news-releases-and-publications/73B92F6E5C401079/