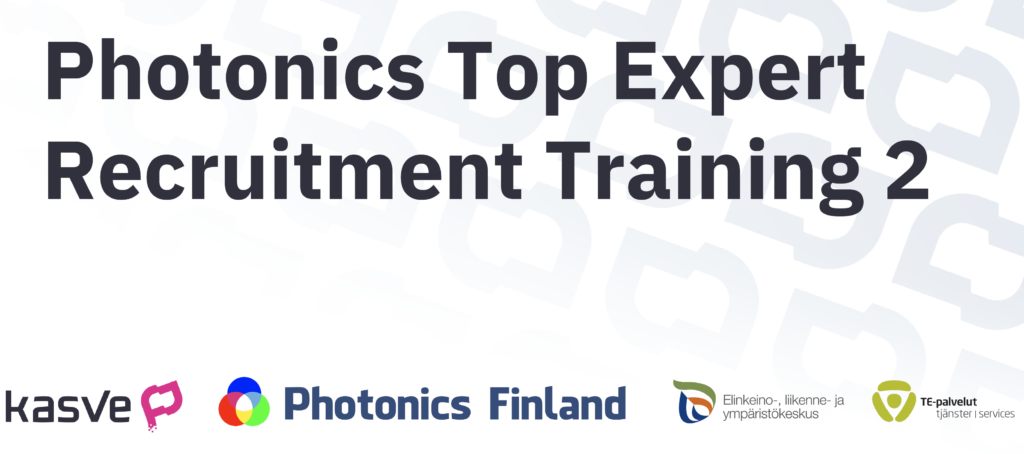 Looking for new employees and support for the recruitment / training process?
👉 Photonics Top Expert 2 Talent Recruitment will start during April! 
What is Photonics Top Expert
Photonics Top Expert pilot (2021) found many new talents with 90% hit rate and provided successful recruiting channel to Photonics Finland member companies.
Photonics Finland in partnership with Kasve, ELY – Centre for Economic Development, Transport and the Environment (Uusimaa and North-Karelia area) and TE-services will open Photonics Top Expert 2 during spring 2023. The recruitment training will be focused to photonics, optics and technology field talents.
Photonics Top Expert 2 is a easy way to find new talents and it is also funded by ELY (value 7000€)
The service includes

Search for trainees incl. pre-selection and interviews (match making)
Training program based on company (and trainees) needs.

Internship in the company
The development task (provided to trainee by the company)

Trainees Group training (remote)
Trainees personal sparring (remote or hybrid)
Company sparring (remote or hybrid)

Total

Internship: 72 working days
Group training: 8 days / 56h
Development task
Personal sparring: 6h / trainee
Company sparring: 2h / company + trainee
Company self-financing 3000€ / per recruit (Contributions are exempt from VAT)
For more information please contact Tuukka.pakarinen@photonics.fi and kirsi.marin@kasve.com.