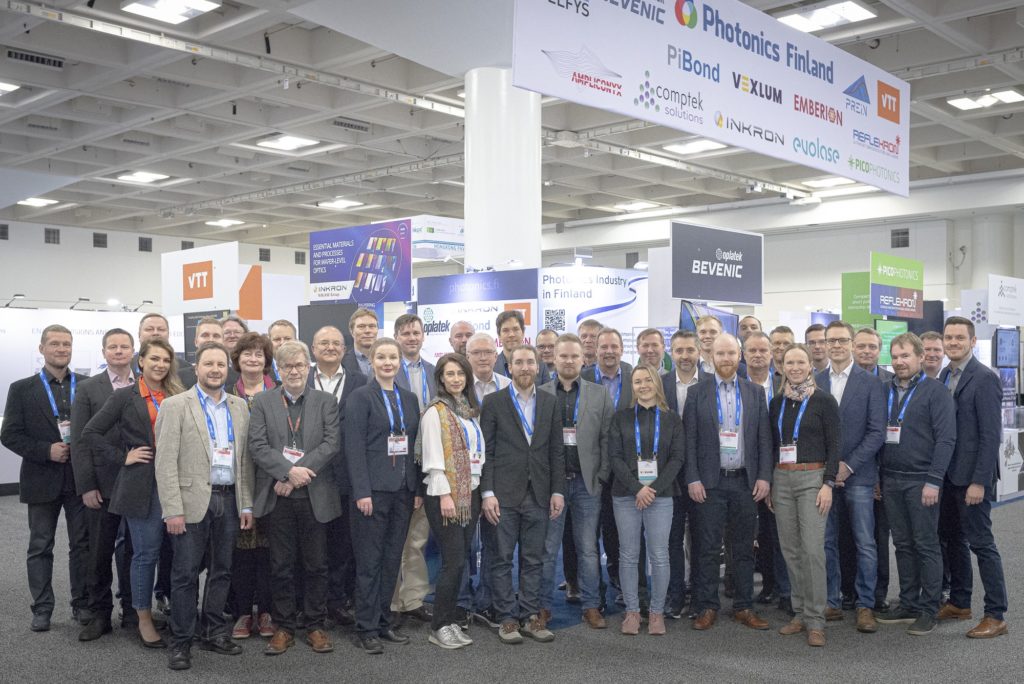 Photonics West 2023 really hit the sweet spot after pandemic times by showing why it is the leading and most significant photonics technology event and exhibition globally. When last year everyone was still getting their engines running after the pandemic, now the event was just full throttle from the start, with more than 22 000 registered attendees and over 1400 exhibitors enjoying seeing each other once again and do business.
Also, there was over 4500 technical presentations at the conference so many significant opportunities to get the latest insights of new innovations and markets. This year Photonic Finland Pavilion had 13 Photonics Finland member companies joining.
Photonics Finland Pavilion service – A turnkey solution for companies
Photonics Finland has been organizing the Finnish Pavilion at Photonics West since 2011 and this exhibition is the main one for the Photonics Finland member companies. Photonics Finland pavilion provides a turnkey solution for companies that wish to receive the best possible visibility and hall placement for their booth, but with easy attend and good service. Finland Pavilion is highly recognized among other exhibitors and famous for its great and welcoming atmosphere.
"The PF-pavilion really helps out especially small and young companies like us. It lowers the threshold for attending significantly. With little resources from our end, we got a professional looking booth with great meeting space. Also, it's nice how it feels like the companies at the pavilion are like one big family", summarizes Antti Rantaniemi from company Picophotonics.
"We have enjoyed this co-exhibiting opportunity with Photonics Finland Pavilion. Not only did we succeed in obtaining a lot of quality leads and prospects worldwide through this flagship industrial platform, the collective branding effect as a Finland Pavilion has also been very beneficial for our corporate branding as a deep tech solution provider from Finland. The support from the Photonics Finland team has been instrumental in helping small companies like us to focus on our sales and marketing preparations and efforts onsite", says Jaycee Lui-Conckova from company Comptek-Solutions.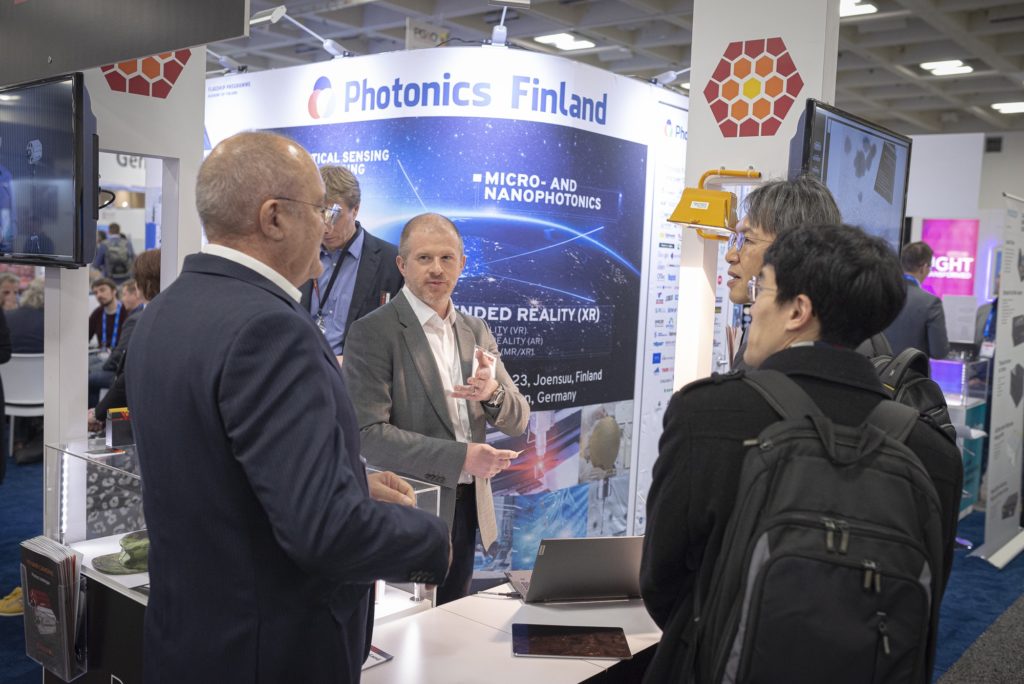 Focus to the main thing – New Business! We take care the rest
Photonics Finland thrives to provide the best possible surroundings to the pavilion companies so they can focus to collect new leads, networks, and partnerships, which eventually generates them new business and growth. In Photonics Finland Pavilion we do that together, as a strong credible looking community and by supporting each other's for the better results.
"It's effortless to go to the tradeshows with Photonics Finland because the company can focus only on the few relevant topics while Photonics Finland organises the rest. This year PiBond did a lot of marketing with LinkedIn and with email campaigns before the event. PiBond also bought an advertisement space from the PW Daily newspaper (published by optics.org) to bring more visitors to the booth. This newspaper is delivered to all the visitors at the entrance", says Uula Kantojärvi from company PiBond.
What to expect from 2024
Photonics West Exhibition 2024 will be organized 30th January – 1 February 2024 in San Francisco, US. The exhibition will be keeping its place as No1 tradeshow for Photonics Finland members, that's for sure. Also, the next year expectations are even higher, since i.e., this year at least companies from China could not attend to the exhibition.

From Pavilion organizing point of view this means that places will be limited, so if you wish to ensure your booth at Photonics West 2024 in Photonics Finland Pavilion – Register now!
Photonics West 2024 – Photonics Finland pavilion booth registration needs to be done through the link / form here: https://forms.office.com/e/u4La1b0Yih and for more information, please contact Tuukka.pakarinen@photonics.fi.
Already registered companies to Photonics West 2024 – Photonics Finland Pavilion
---
Attendance Recap of 2023
Registered Attendance for SPIE Photonics West, BiOS Expo, and AR|VR|MR 2023: 22,000+
· Technical Attendees: 6,571
· Exhibition Visitors: 8,532
· Exhibition Booth Staff: 7,656
Exhibitors: 1400+
· Photonics West: 1158 exhibitors
· BiOS Expo: 174 exhibitors
· AR|VR|MR Exhibition: 52 exhibitors
· Job Fairs: 29 exhibitors
Now on to 2024!
BiOS Expo: 27-28 January 2024
Photonics West Exhibition: 30 January – 1 February 2024
AR|VR|MR Exhibition: 30 – 31 January 2024